This question is really "disturbing" for some reasons :
All the investment banks are muted about this… All present the excess savings as THE fuel of the consumption wave propelling the economy and the financial indices to new heights…
Powell and Yellen advocate that their programs help households and corporates, but they never mentioned the semantic difference between forbearance and forgiveness regarding debt, rent, loan payments…
Congrats to Adam Edelman for this article. This will be the main subject of my next webinar, with my friend Jay Peloski. The subject,  from Rotation to Transition, is important and crucial for the financial markets.
The Bull Run 2021 is established without paying attention to the huge Zombie Army ready-to-bite consensus, expectations, and market positioning (short volatility).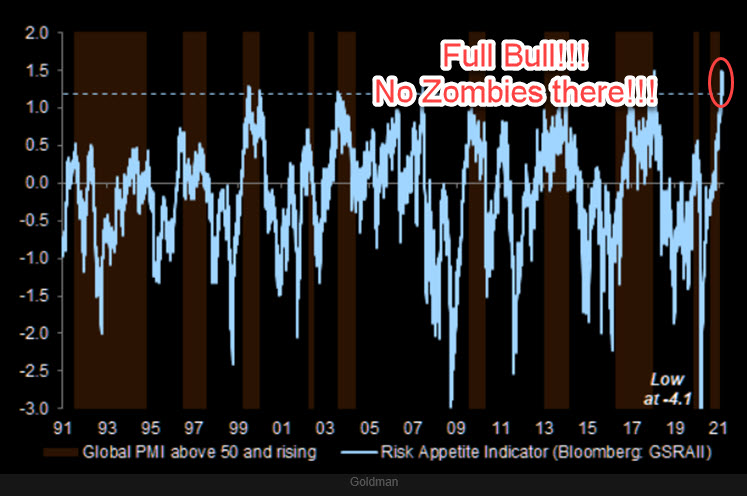 Central banks and governments (and not only in the USA) have just added more debt, increasing the wave of spendings (not consumption) at the end of forbearances…
The USA sees a return to normal life on the horizon, payments on trillions of dollars of those debts could resume soon, even if debtors remain out of work or in financial distress because of the economic crisis the outbreak wrought.
Consumer finance and regulatory experts, as well as Democratic lawmakers, warn that the coming debt crisis will be catastrophic for many people and that they could be a huge windfall for predatory financial institutions like debt collectors and payday lenders…
In one of his first moves as president, Biden had extended the ability for borrowers to pause their federal student loan payments through the end of September, affecting about 40 million borrowers.
Many utility companies have also voluntarily allowed consumers to pause their payments on electric and gas bills during the economic crisis.
Two solutions :
The MMT will be the only process to keep lifelines for millions of households and corporates for life.
The recognition day will happen at the end of the forbearance period.
The banks will be on the first row, fighting the Zombie Army, and guess what??? Yellen is in favor that banks pay dividends and ignite their share-buyback programs this summer.
Too many investors are confusing savings and deferrals, and they will realize that provision for non-paiement will become pure losses…
The Minsky moment for the markets will be at the transition period at the moment the economy will reopen…