This thematic is a component of decarbonization. (traffic flow optimized, smart streetlights, etc.)
China has about 800 smart city pilot programs underway, more than half of the world's total.
Due to urbanization, Asia faces a gap in infrastructure investment amounting to over $2tn per year.
Driven by its new-type urbanization strategy, China has seen rapid urbanization with a compound annual growth rate to over 1% in the past decade.
Covid-19 showcases the advantages of smart cities.
A thematic at the confluence of construction, 5G, digitalization, etc.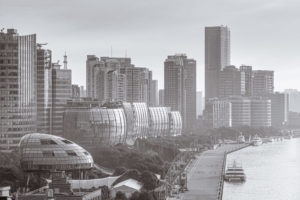 We summarized the 10 benefits of Smart Cities.
The smart cities initiative was established in the 12th Five-Year Plan issued in 2011. The development of smart cities in China is primarily top-down and predominantly driven by government investment, but there is significant opportunities for partnership with private tech companies looking to transform urban living.

Here, we will introduce the top eight smart cities in China.
From this introduction, you will learn more about China, and you will understand that Smart City is not a theoretical concept…